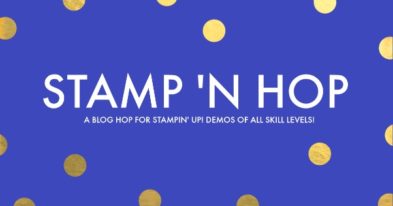 Hallo, willkommen zum zweiten Durchgang des Stamp 'N Hop Blog Hop! Ich heiße Ilka und Du bist gerade bei mir im Südwesten von Deutschland gelandet. Diesen Monat stehen die Gratisprodukte aus der zweiten Sale-A-Bration-Ausgabe im Rampenlicht. Steht da "gratis"? Na klar, während der Sale-A-Bration kannst Du Dir für je 60 € Bestellwert einen der SAB-Artikel aussuchen und bekommst ihn geschenkt! Klicke hier für alle Informationen dazu – die Sale-A-Bration läuft noch bis zum 31. März, also greif schnell zu!
Für mein Projekt war mir sofort klar, dass ich das traumhafte Designpapier Frühlingsglanz benutzen wollte. Die hübschen Motive sind kombiniert mit dem Metallic-Effekt wahnsinnig toll, und da ich bei meiner Bastelei ein klitzekleines bißchen Kupfer-besessen bin sprang mir das Blumenmuster sofort in die Hände. Als ich mit der Karte anfing hatte ich nur eine grobe Vorstellung was ich machen wollte, in der Art "ooohhh, eine von den Blumen irgendwie mit dem Korbmuster kombiniert…" und dass sie sich schräg öffnen sollte. Es war gar nicht beabsichtigt nur Sale-A-Bration-Artikel zu nutzen, letztendlich bin ich selbst überrascht wie viele ich tatsächlich benutzt habe. Das zeigt mal wieder wie toll die Produkte sich ergänzen und wie einfach sie kombiniert werden können!
Wie immer kannst Du mit einem Klick auf das Bild eine größere Version ansehen:
Hi and welcome to the second edition of Stamp 'N Hop blog hop. I'm Ilka and right now you hopped over to me in southwestern Germany. The spotlight this month is on the second release items of Sale-A-Bration, and best of all: you can get them for free! Until March 31 every 60 € spent on an order earn you a free item from the Sale-A-Bration brochure, so check it out quickly and go grab your freebie!
I knew immediately that I wanted to use the wonderful Springtime Foils Specialty Designer Series Paper for my project. The lovely designs combined with the metallic foil are gorgeous, and as I seem to have a slight obsession with everything copper when it comes to crafting it was an easy decision to go for the flower pattern. I only had a rough idea for the card when I started, something along the lines of "oohhh, one of the flowers on a basket weave piece" and the diagonal opening. It wasn't my intention to use only Sale-A-Bration items, but in the end I'm suprised how many I actually used on the card. This just shows how great the different products go together and how easy they can be combined!

You can click on the picture to open a larger view:

Eine einfacherere Version wäre, die dreieckigen Teile einfach auf einer normalen, rechteckigen Kartenbasis aufzukleben und die diagonale Öffnung wegzulassen. Die Karte wäre in Windeseile fertig!
An easier version could be to use a regular card base, stick the triangular pieces down as a pattern and skip the diagonal opening. The card would be done in a breeze!

Für die Karte habe ich diese Produkte benutzt:
I used these products to create the card:
Product List
Vielen Dank für's Vorbeischauen! Mit dem Klick auf's Bild geht es zum nächsten Blog, die komplette Linkliste der Teilnehmer dieses Blog Hops findest Du darunter:
Thanks for visiting! Click on the image to hop over to the next blog, or pick a name from the full list of this month's hop participants below: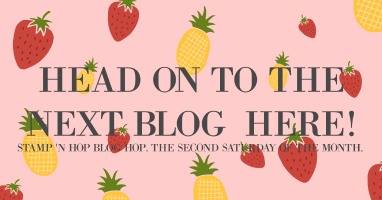 Idonna Miller
Ilka Teschke << Hier bist Du gerade! You are here!
Tracey Gouraud
Kayla Adams
Joanne Hodge
Sandra Roberts
Melissa Tennison
Mo Rootes
Britney Vanderlaan
Tracie Evans Langley
Melissa Kerman
Georgia Gaydos
Shannon Cole
Lisa Kmiec
Amy Grendel
Jenn Charles
Laurie Mackie
Eva Pottsova
Rachel Traudt
Laurie Meier
Susan Simpson
Kimberly Smith
Tracy Lewis
Karen Pearmain
Christina Walker
Bobbi Miller
Danielle Kassing
Kirsten Aitchison
Sharleen Luciano
Rebecca Fellows
Arden Dougan
Linda Handford
Sharon Maranich
Mikaela Titheridge
Andre Gordon