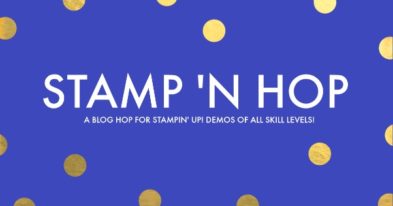 Hallo, willkommen zum dritten Durchgang des Stamp 'N Hop Blog Hop! Ich heiße Ilka und Du bist gerade bei mir im Südwesten von Deutschland gelandet. Diesen Monat geht es um unsere Lieblingsprodukte von der Auslaufliste des Jahreskatalogs. Die findest Du als PDF hier und als Excel-Datei hier – jetzt heißt es schnell zugreifen, denn wenn weg, dann weg! Die Auslaufliste für den Frühjahr-/Sommer-Katalog findest Du als PDF hier und als Excel-Datei hier.
Ich hätte liebend gerne für jedes Set auf der Auslaufliste das ich mag ein eigenes Projekt gemacht, am meisten werde ich Birthday Blossoms, Moon Baby, Flower Shop, Donnerwetter, In Gedanken bei dir und Vintage Leaves vermissen. Leider fehlte mir dafür einfach die Zeit, also musste das eine Projekt meinem absoluten Lieblingsset gewidmet werden: Watercolor Wings. Mit diesem Set hatte ich wahnsinnig viel Spaß und habe es für sehr viele Projekte benutzt, so dass ich richtig traurig bin dass es nicht mehr verfügbar sein wird. Um es gebührend zu verabschieden habe ich es mit den Thinlits Schmetterlinge und den Framelits Schmetterling kombiniert, dazu habe ich noch das Designerpapier Bunte Vielfalt benutzt das ebenfalls geht (neeeiiiin!!) und die auslaufenden In Colors. In der Vergangenheit gab es so manche Farbe bei der ich froh war dass sie Platz für andere macht – ja, ich meine Dich, Ockerbraun! – aber die In Colors 2016 – 2018 sind mir wirklich ans Herz gewachsen. Sie sehen zusammen toll aus und ließen sich auch super mit den anderen Farbfamilien kombinieren. Vor allem Pfirsich Pur wird mir sehr fehlen! Aber so ist es nun mal, und auf der anderen Seite gibt es soooooo viele neue tolle Produkte auf die wir uns freuen können!
Mein Abschied von Watercolor Wings ist eine kleberfreie Faltbox die ich ganz plump von der wunderbaren Pootles geCASEd habe. Wenn Du wissen willst wie die Box gemacht wird schau mal hier vorbei, wenn Du mit dem Blog Hop fertig bist. Meine Version der Box ist an sich nichts besonderes, einfach zwei Lagen obendrauf geklebt, etwas Band dazu – fertig! Aber ich habe ein paar kleine Magnete zwischen den Lagen versteckt und die Box mit Schmetterlingen gefüllt die ebenfalls mit Magneten versehen sind. Das heißt nicht nur, dass man die Schmetterlinge oben auf der Box einfach austauschen kann, sondern man kann damit auch alles dekorieren, woran ein Magnet hält: Schreibtischlampen, die Küchenstange mit den Körben voller Bänder, Haarclips, Kühlschranktüren…
Solltest Du das auch mal machen hoffe ich Du wirst sehr kreativ mit den Orten, an denen Du die Schmetterlinge festmachst; ich würde mich sehr über Bilder freuen! Apropos Bilder, hier ist jetzt mein Projekt. Wie immer kannst Du auf das Bild klicken um eine größere Version zu sehen.
Hi and welcome to the third edition of Stamp 'N Hop blog hop. I'm Ilka and right now you hopped over to me in southwestern Germany. The spotlight this month is on our retiring Annual Catalog favorites. You can find the retiring list in PDF format here and here as an Excel file – quickly grab your favorites before they are gone! The Occasions catalog retiring list is available here in PDF format and here as an Excel file.

I would have loved to create a project for every retiring stamp set that I like, the ones I will miss most probably are Birthday Blossoms, Moon Baby, Flower Shop, Weather Together, Hopeful Thoughts and Vintage Leaves. Sadly I didn't have the time to do more than one project, so it had to be about my absolute favorite stamp set, Watercolor Wings. I'm so sad that it will no longer be available, it's a set that I had so much fun with and that I used on so many projects! To give it a proper goodbye I paired it with the matching Butterflies Thinlits and Bold Butterfly Framelits, as well as the lovely Naturally Eclectic Designer Series Paper which is retiring as well (nooooooo!) and the discontinued In Colors. In some cases I didn't really mind seeing a color go – looking at you, Delightful Dijon! – but these In Colors 2016 – 2018 have really grown on me. They looked so well together and were easy to pair off with the other color families. Especially Peekaboo Peach is something I can hardly imagine going without. But that's just the way it goes, and there are sooooo many wonderful new products to look forward to!
My farewell to Watercolor Wings is a no glue foldable box that I blatantly CASEd from the wonderful Pootles. If you'd like to know how it's done have a look here after you are done with hopping with us. My box version itself is nothing special, just two quick layers on top, a bit of ribbon – done! However, I hid some small magnets between the layers and filled the box with a bunch of butterflies with magnets as well.This not only means you can switch the butterfly on top of the box with any of the others ones, it also means you can pop the butterflies on anything that the magnet sticks to: desk lamps, kitchen rails holding your ribbon baskets, hair clips, fridge doors…

Should you decide to try this as well I hope you will get creative with the locations you pop your butterflies on, I would love to see pictures! Speaking of pictures, here are the ones from my project. As usual you can click on the image to see a larger version.
Ich habe diese Produkte benutzt / I used these products:
Vielen Dank für's Vorbeischauen! Mit dem Klick auf's Bild geht es zum nächsten Blog, die komplette Linkliste der Teilnehmer dieses Blog Hops findest Du darunter:
Thanks for visiting! Click on the image to hop over to the next blog, or pick a name from the full list of this month's hop participants below: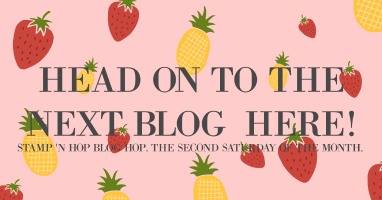 Kayla Adams
Amy Grendel
Tracie Evans Langley
Cheryl Taylor
Linda Handford
Susan Simpson
Laurie Meier
Britney Vanderlaan
Lisa Kmiec
Melissa Kerman
Kirsten Aitchison
Tracey Gouraud
Rachel Traudt
Ilka Teschke << Hier bist Du gerade! You are here!
Danielle Kassing
Mo Rootes
Kim Smith
Courtenay Heuston
Jenn Charles
Idonna Miller
Terry Montgomery
Joanne Hodge
Sandra Roberts
Laurie Mackie
Mikaela Titheridge
Karen Pearmain
Tracy Lewis